FLOATING ROOFS
The Tanksystems DeckMaster GRP floating roof is a seamless, non-metallic full-contact floating roof. It's gas-tight polypropylene honeycomb core is "sandwiched" between multiple layers of fiberglass utilizing modern high-grade Vinyl Ester resins designed to be resistant to most hydrocarbons in the petrochemical industry. The result is a smooth, seamless and virtually indestructible full-contact floating roof that also is corrosion free, thus necessitating little or no maintenance.
We offer full equipment floating roofs: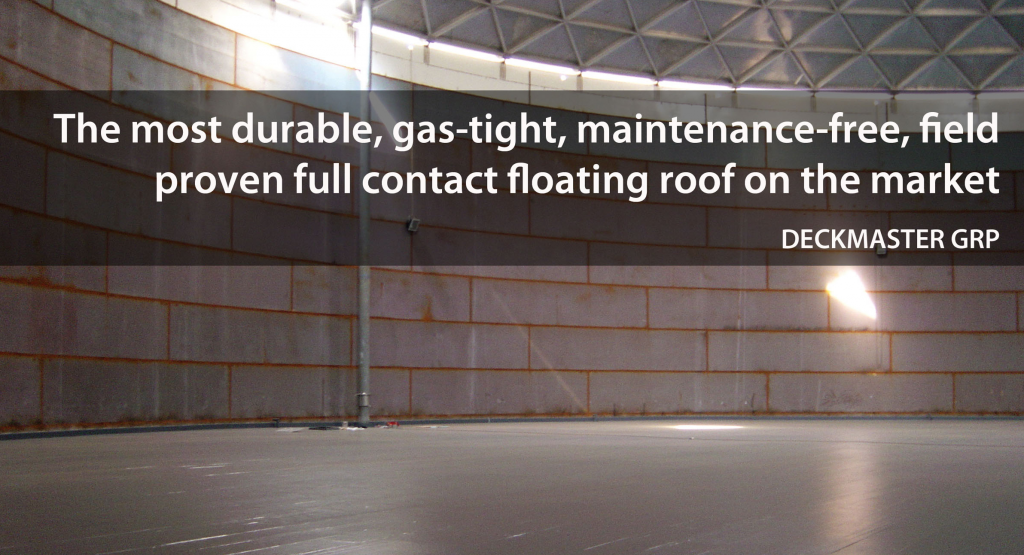 The TankSystems DeckMaster GRP floating roof remains in full contact with the stored product, preventing evaporative losses. The low-profile cross section of the roof maximizes the storage capacity of the tank. Designed to accommodate both a mechanical shoe primary seal and a secondary seal, the DeckMaster is fully gas-tight, leak proof and unsinkable. The robust design also enables it to withstand operational stresses such as pigging and butter washing.
Key user benefits:
Maintenance-free — corrosion resistant, requires no painting, coating or spare parts
Minimal construction time & disruption — all materials fit through one 24" manway
Unsinkable — due to its multi-cell, gastight, leak-proof honeycomb core and the cured-in-place multi-layered  fiberglass construction
Fully engineered and field-proven — 15+ years, dozenso f major oil & gas end-users
Maximizes tank capacity — low-profile cross-section increases working capacity
Virtually indestructible — aerospace composite sandwich construction
Key design features:
Full-contact design — to eliminate vapors below the internal floating roof
Gas-tight design — to accommodate both a mechanical shoe primary & secondary seals
High strength — to withstand pigging, light-end slugs and turbulence from high fill rates
Seamless — single-piece construction qualifies for zerodeck-seam emissions per API
Chemically resistant — to all products normally stored in floating roof tanks
Fire retardant — tested by certified third-party specialist (Last Fire Group)